Doris Weatherford has been publishing books on American women since 1986. Her work has been extensively recognized, including an award from the American Library Association.


Victory for the Vote: The Fight for Women's Suffrage and the Century that Followed, February 2020.
Women's history expert Doris Weatherford's Victory for the Vote: The Fight for Women's Suffrage and the Century that Followed offers an engaging and detailed history of the women's suffrage movement and brings readers up to date on key achievements—and challenges—in women's equality since then. A foreword by Speaker of the House Nancy Pelosi sets the stage for the seven-decade fight for the vote and the waves of feminism that followed. An expanded edition of a 1998 volume on the history of the American suffragist movement, Victory for the Vote puts the fight for suffrage into contemporary context by highlighting the revolutionary women whose activism changed our world in the decades following the passage of the suffrage amendment.
Women in the Literary Landscape, C&R Press, 2017.

From colonial times, women have been at the forefront of significant developments in the literary community and the book world. Despite this important history, no single publication has provided an overview of women's roles in writing, publishing, bookselling, and librarianship. With Women in the Literary Landscape, in honor of its Centennial, the WNBA breaks new ground with a narrative connecting women's contributions in these fields with the relevant social history.

"Brilliantly written and researched . . . . every page is filled with surprises, enchantments, and exciting new information of significance." — From the foreword by Blanche Wiesen Cook, biographer of Eleanor Roosevelt
They Dared to Dream: Florida Women Who Shaped History, University Press of Florida, 2015.

"Well crafted and in depth, They Dared to Dream has moved women, their experiences, and their contributions to the forefront of Florida's history and heritage. This is a long-overdue and much-needed turning point in understanding our state's past and present." — Canter Brown Jr., coeditor of The Varieties of Women's Experiences

"Represents a leap forward in the study of Florida history. Weatherford has done an outstanding job of researching and writing about Florida women, from paupers to queens, elevating their status to a level of equality within the overall story of Florida." — Rodney Kite-Powell, Saunders Foundation Curator of History at the Tampa Bay History Center and editor of Tampa Bay History

"Exhaustively researched, well-written, and engaging, They Dared to Dream breaks new ground in the study of Florida. Doris Weatherford's ambitious history of women in Florida will be widely read and discussed. From Princess Ulele to Alex Sink, from the role of criollas in colonial St. Augustine to the struggles of women in the twenty-first century, Weatherford chronicles their lives in the Sunshine State." — Gary Mormino, author of Land of Sunshine, State of Dreams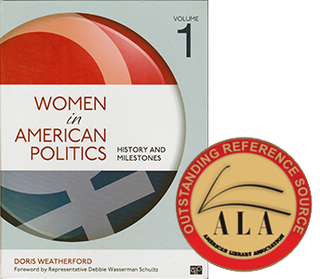 Women and American Politics: History and Milestones (with an introduction by Debbie Wasserman Schultz), Congressional Quarterly Press, 2012.

Winner of a prize from the American Library Association.

A two-volume work that details the history of women in elective offices, including women who won elections prior to having the right to vote. Chapters are arranged by office: governors and other statewide positions; state representatives and senators, both houses of Congress; mayors, and presidential candidates. Three chapters cover the judiciary, including the right to become lawyers and then state and federal judges. The final section is on political parties, women's organizations and PACs. Volume II includes a brief history of women in every state, along with lists of those who won major elections. Multiple charts to help readers digest the information, and many sidebars add personal reflections of these precedent-setters.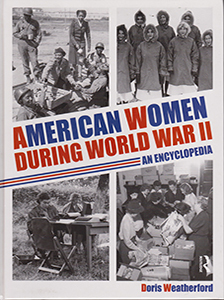 Encyclopedia of American Women during World War II. New York: Routledge, 2009.

"Many encyclopedias and dictionaries have been published on World War II, with some coverage of women, but Weatherford's work fills a major gap in reference books on this era. The encyclopedia will be of use to college and university libraries as well as public and high school libraries…Highly recommended." — Vanette Schwartz, Feminist Collections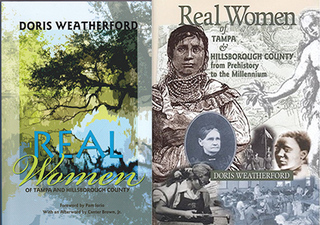 Real Women of Tampa and Hillsborough County: From Prehistory to the Millennium. Tampa: University of Tampa, 2004. (Reissued 2015)

"Weatherford's subjects exist in a larger sphere than Tampa -- their stories unfold around national and world events. This makes the book more than a "local read," says Richard Mathews, director of the University of Tampa Press... "It's the only women's history of any Southern city that I know of, so it's a pioneering book." — Kurt Loft, The Tampa Tribune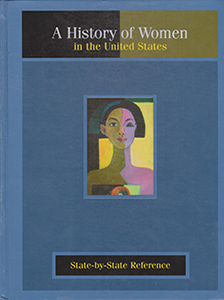 History of Women in the United States: State-by-State Reference (four volumes) Chief author/executive editor, Scholastic/Grolier, 2003.

"An excellent reference source, interesting and engaging, with an appealing layout. Summing Up: Highly recommended." — R.P. Saurer, Catholic University of America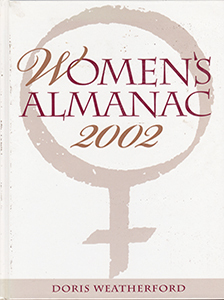 The Women's Almanac. Chief author/executive editor, Oryx Press, 2000 and 2002.

"Not a compendium of 'sound-bytes,' this enlightening volume consists of six well-written sections including a succinct but coherent summary of international and US news relevant to women…" — Reference and Research Book News


A History of the American Suffragist Movement (with an introduction by Geraldine Ferraro) ABC-CLIO, 1998.

"Weatherford, the author of four other books on US women's history, provides a coherent and accessible narrative history as it was viewed by the suffragists themselves…Although the work is intended as a celebration of Seneca Falls, the author is not blind to the tactical and human shortcomings of the movement." — J.K. Boles, Marquette University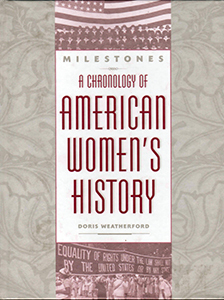 Milestones: A Chronology of American Women's History, 1492-1995. Facts on File, 1997.

"When I picked up the book and started leafing through it, I became engrossed…Your work will be a valuable reference for me, and for countless others." — Hillary Rodham Clinton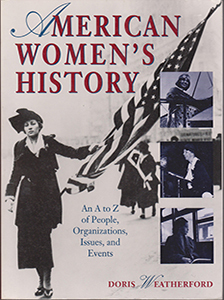 American Women's History: An A-Z of People, Organizations, Issues and Events. Prentice Hall, 1994.

"Consider this a needed remedial volume to correct the errors of omission, systematic in nature, in the Dictionary of American History and Dictionary of American Biography…A useful source in its own right, [it] compensates for the substantive omissions of standard sources, and thereby, itself becomes a standard source." — Wilson Library Bulletin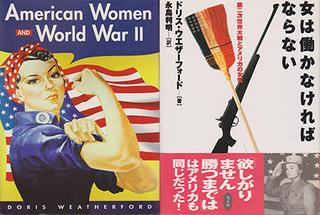 American Women and World War II. (translated into Japanese and reissued with four different covers), Facts on File, 1990.

"Doris Weatherford gives America perspective on its women…Weatherford draws her readers into this unique accounting…American Women and World War II should be a supplement in every high school and college history course in America." — Arkansas Gazette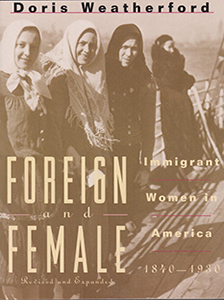 Foreign and Female: Immigrant Women in America, 1840-1920;
Originally published 1986; revised edition by Facts on File, 1995.

"Fascinating study... The author carefully researched and documented...the enormous resiliency of immigrant women." — West Coast Review of Books

"In this revised and expanded edition of the 1986 text, Doris Weatherford utilizes a rich cache of unpublished and archival material." — The History Teacher
OTHER WORKS


Columnist for LaGaceta, the nation's only trilingual newspaper; published weekly in Tampa in Spanish, Italian, and English, 2012-
Curator for cyber-exhibits at www.nwhm.org, under the aegis of the National Women's History Museum; quarterly columns for NWHM's printed newsletter, 2003-2012
Introduction to Right Here I See My Own Books: The Woman's Building Library at the World's Columbian Exposition, by Sarah Wadsworth and Wayne Wiegand, Amherst: University of Massachusetts, 2012
Entries in Encyclopedia of US Political History, Sage Publications, 2010
Columnist for "WE – Women's Enterprise," a Dallas-based magazine aimed at businesswomen, 2004-2008
Contributor to "Partners in Winning the War – American Women in World War II," an exhibit at the museum of Women in Military Service to America in Arlington Cemetery, 2004
"Remember the Women," exhibit for the Florida Humanities Council, 2001
"Last Instead of First: Florida's Suffrage Movement," Forum: The Magazine of the Florida Humanities Council, 1995
Entries in the Dictionary of American Biography, Scribner's, 1994 and 1995
Entries in European Immigrant Women in the United States, Garland, 1994
Grant from the YWCA/National Endowment for the Humanities to lead at-risk middle school students in a local history collection "treasure box" project, which was exchanged with similar boxes from other parts of the U.S., 1990