I agonized for days about watching the Super Bowl, feeling ambivalent because of my lost Hubby. He would have been so excited! When I did decide to watch, it was hard to look at his empty chair. He lived long enough to know about Tom Brady and greatly admired this ancient athlete. Beyond that, the game was in Tampa! And the February weather was exactly what the Chamber of Commerce ordered. He would have been happy, but it made me sad that he wasn't here to enjoy it. Moreover, it was on Sunday the 7th and wouldn't have interfered with our 55th anniversary on the 8th. Yes, the Super Bowl began the year we married, 1966.
It was a tiny wedding, and there was a foot of snow on the ground in Washington. Hubby and I had just arrived from Boston for his assignment to the Pentagon, but his brother (and best man), a lieutenant in the Army's Signal Corps, lived in suburban Maryland. My sister agreed to be the matron of honor and flew up from North Carolina, where her husband also was an Army man. It took a while to find a wedding site.
I grew up Lutheran, but a Lutheran pastor refused to marry us because he didn't know us, so we went to a young chaplain at the University of Maryland. We already had the marriage license, but there was a problem about what county it was valid in. I don't remember the details, just a lot of running around and eventually borrowing a church from the chaplain's friend. The chaplain turned out to be a great guy who gave us advice that we followed for decades. One example: Don't let little things fester; if it bothers you that he leaves the cap off the toothpaste, say so – kindly.
We didn't particularly notice the Super Bowl that year – in fact, we didn't have a television. We bought our first for the moon shot in 1969. By then, we were back in Boston and establishing a tradition of really good anniversary dinners. I kept a record for the first fifty years, and it makes me hungry to read what we ate, both there and here. Hubby made a point of taking me to Boston's very expensive Locke Ober's in 1971 because until 1970, it was exclusively for males. Unsophisticated as I was, I ordered pink champagne. The waiter complied, but I saw him give Hubby a wink.
In Florida, many anniversaries were delayed. Hubby lobbied for the United Faculty of Florida, and important legislative committee meetings are underway during February. Bills live or die in committees, and good lobbyists must watch every little move in meetings that often stretch into the evening. Strategy sessions follow that, preparing for the next day. Even if I were in Tallahassee, he would feel guilty if he took time for a romantic dinner. I felt the same, and I remember that one year, we were into May before we had a weekend to relax: The upshot was that we celebrated our February anniversary and May's Mother Day together. But he always remembered and always bought thoughtful presents. And the Super Bowl rolled on.
DANGER AHEAD: THE LEGISLATURE IS IN SESSION
Lawmakers are back in Tally again, and a number of stupid bills have been filed. Many are resolutions, not proposed laws, but instead simply are a way for lawmakers to rant: They just declare their sentiments on something or the other, and then they can show this adopted resolution to their constituents, who might believe that something has been done. Never forget that a resolution is not a law. If it's "HR," it's "House Resolution." It requires "HB" to become "House Bill," and bills only become law after both chambers pass it and the governor signs.
A few good bits of legislation are scheduled for hearings, including putting a stop to that crazy proposal for interstates where no one lives. It would benefit land owners in central and north Florida, while killing what remains of natural Florida. Call your state senators and reps about this. You don't didn't to know bill numbers, etc.: Just call and vent. Your message might save a gator, and certainly a lot of tax dollars.
This is a tad unrelated, but something worth knowing. Norman Orstein is a conservative columnist, and I seldom read his editorials, but this is worthy of attention. Bemoaning demographic reality, he said, "I want to repeat a statistic I use in every talk. By 2040 or so, 70 percent of Americans will live in 15 states. And the 30% will be older, whiter, more rural, more male than the 70 percent. Unsettling to say the least."
Unsettling to him and his older, whiter, male audiences, but good news for the 70 percent of us. The 30 percent, however, still may control the Electoral College, and if we don't do something about it, inequity will continue with candidates who win the most votes and yet lose. When people tell you that Democrats are not popular, please refute them with this fact: Only one Republican president has won the people's vote in recent decades.
That was Dubya's reelection in 2004, against John Kerry, who came pretty close and now has returned to public service as the Presidential Envoy for Climate Change. These old guys hang in. Hubby and John Kerry were among the oldest men in the first march by Vietnam Veterans against the war. I also met him when he came to a NOW meeting at a friend's home in Massachusetts, when modern feminism was new.
But back to the point of Democratic nominees winning the most votes in recent elections. John Kerry in 2004 against an incumbent Republican was the only election in the last 28 years that Democrats truly lost. I researched a little chart for you. (The Democratic nominee is listed first):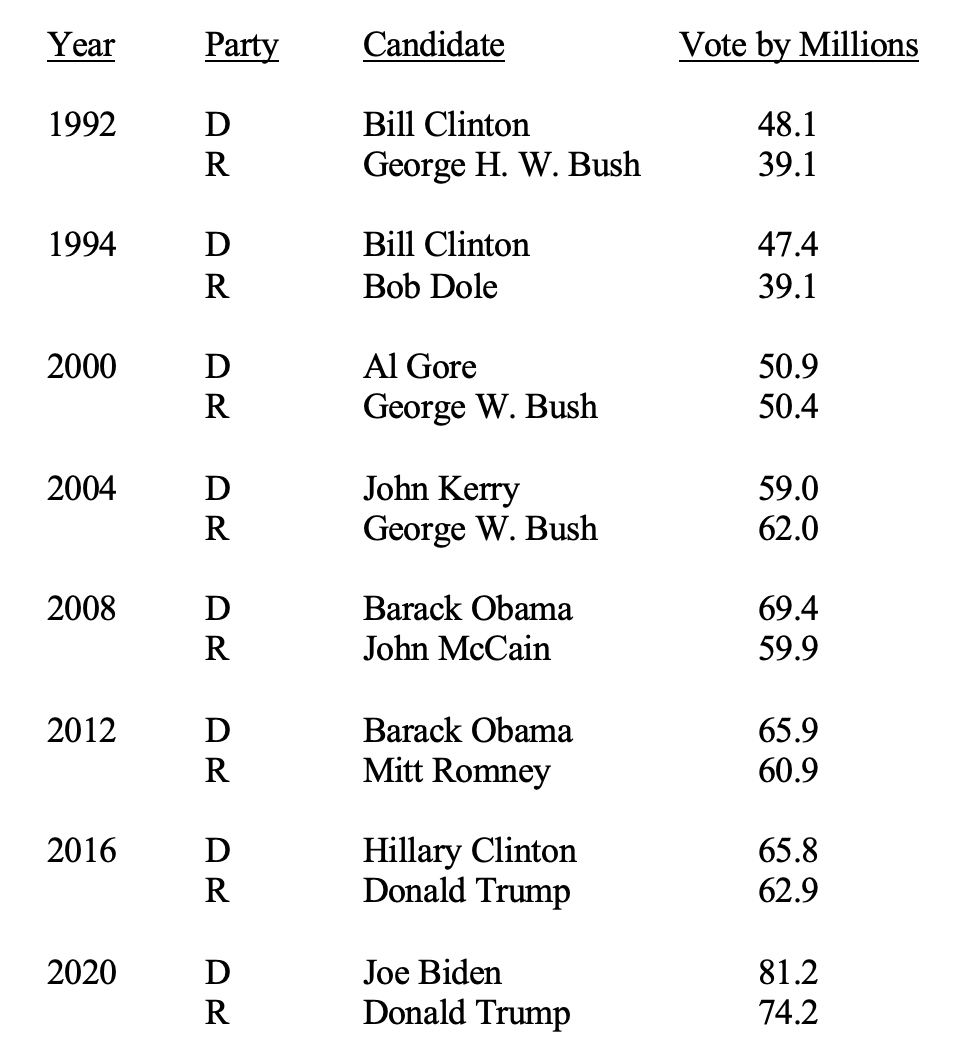 ­
I put a lot of time into this, so please study it closely – and if you want to double check, ask Wikipedia. It's true: The only election in recent memory that Democrats truly lost was in 2004. That we haven't had Democrats in the White House is solely due to the antiquated Electoral College. It and the gerrymandering of legislative seats should get our highest attention prior to the 2022 election – and then, we can chose a new government for Florida. So, really early on and before Publisher Patrick gets to it, I'm going to propose my list (of the moment) for the top jobs. All of my nominees, it goes without saying, are Democrats.
Let's plan on Val Demings vs. Rick Scott for the US Senate. Businessman Rick Scott paid the biggest fine for fraud in Medicaid history, and yet remains very wealthy – and indifferent to us. Val Demings, on the other hand, is a former police chief of Orlando, and her husband is its current mayor. She is a member of the US House and knows her way around Washington. Most of all, she is African American and can get out the vote in an off-year election. She also would bring in lots of funding from committed Democrats across the nation. And I like her; she's nice.
I could reverse myself, but right now, I'm thinking of Annette Taddeo vs. Ron DeSantis for governor. She's currently in the Florida Senate, representing Miami. She was born Colombia, which should help us with those loonies who voted for Trump because they thought Biden was a "socialist." She was educated in Alabama, which presents an opportunity in North Florida, and is married to a Jewish psychologist. Charlie Crist chose Taddeo as his gubernatorial running mate in 2014, and they lost to incumbent Rick Scott – but not by as much as you might think: it was 48.1% for Republicans and 47.1% for Democrats. With the trouble that Republicans are in these days, and with DeSantis increasingly seen as incompetent, Florida might have its first female governor.
The Office of Attorney General will be open, as Ashley Moody's time is up. I'm thinking of returning Charlie Crist to this job, which he's had before. Of course he also was governor, and the rumor mill says he's thinking of running for that top job again. Please don't, Charlie. We need someone at the top of the ticket who has stronger appeal to Florida's ethnic groups and especially to its women. But if Charlie is willing to become attorney general again, that would be fine. He's a tireless campaigner, and we need to campaign for the whole ticket.
For either attorney general or CFO, I'm looking at current State Representative Ben Diamond of Pinellas. He graduated from Yale and Florida Law, where he was chosen as editor of the school's law review – a true measure of merit. He's thoughtful, committed to progressive causes, and sends holiday cards with pictures of his children. For those with long memories, Ben is the grandson of Dante Fascell, who was elected to Congress from Miami for 38 years. I guess they liked him. I like Ben.
Finally, I hope Nikki Fried remains as Commissioner of Agriculture and Consumer Affairs. She has done a great deal to make the office beneficial to all Floridians, not just our farmers. It was a tremendous shock to the good-ole-boy system when she won last time, and she should hold on to this office that they assumed was only for conservatives. The proposed ticket, then. would give us an African-American woman from Orlando, a Latina from Miami; a white man from Pinellas; a Jewish woman from Fort Lauderdale, and some questions mark re attorney general/CFO.
It is pretty well balanced, except for North Florida and Jax. Roaming around on the internet, I see that Tommy Hazouri still is on the 19-member body that functions as both the Duval County Commission and the Jacksonville City Council. Tommy has been mayor of Jacksonville, and we knew him when he was a state representative. He is more than qualified for a statewide office. It would be good to see an older guy on the ticket, and I know it would make Hubby happy.
doris@dweatherford.com